Easily removes annoying grease and stains!!!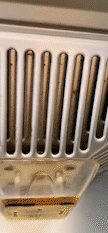 With new foam technology, this spray penetrates and removes the most difficult grease and stains from all kitchen items! Formulated to penetrate tough grease & grime, leaving you with clean kitchen surfaces and appliances in seconds!
Feature:
Rinse-free Cleaning Spray
Water-based cleaner that transforms the cleaning solution into foam. No-rinse formulas, no need to be rinsed to make the surface glow instantly! Does not leave greasy or sticky residues.
Safe ingredients
Mild and effective concentrated formula can emulsify the grease and grime on contact effortlessly with dense foam, no injuries to hands or articles, safe and fast.
Easily removes annoying grease and stains
Foam expansion technology can effectively remove stains, grease, grime, dirt, stubborn messes for all-purpose cleaning to keep your surface clean and fresh, no more greasy and rusty kitchen.
Quick and easy
No need to scrape or scrub hard. Just spray this Bubble Cleaner on the items you want to clean and wait for it to dissolve the stubborn stains, and you can wipe them off.
Solution to a clean kitchen
Powerful and versatile. Use to clean stove top, back splash, kitchen counter & cabinets, oven, sink, and microwave.
How to use:
Specifications:
Ingredients: Biological enzymes, emulsifiers, surfactants
Net Content: 100ml/200ml
Function: Remove stubborn grease