The bubble cleaner is helpful to create a new-looking and clean kitchen for your house. With new foam technology, this spray penetrates and removes the most difficult grease and stains from all kitchen items!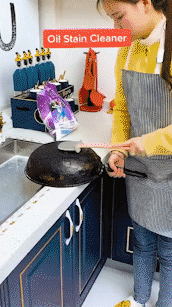 Safe ingredients
Mild and effective concentrated formula can emulsify the grease and grime on contact effortlessly with dense foam, no injuries to hands or articles, safe and fast.
Easily removes the most stubborn kitchen dirt
Foam expansion technology can effectively remove stains, grease, grime, dirt, stubborn messes for all-purpose cleaning to keep your surface clean and fresh, no more greasy and rusty kitchen.
Quick and easy
No need to scrape or scrub hard. Just spray this Bubble Cleaner on the items you want to clean and wait for it to dissolve the stubborn stains, and you can wipe them off. Use to clean stove top, back splash, kitchen counter & cabinets, oven, sink, and microwave.
Features:
Easily removes the most stubborn kitchen dirt.
By removing sticky dirt, the versatile cleaning spray will keep everything shiny and clean
Non-toxics formulas, Create a safe kitchen environment for you.
Home decorations/home tools that are often used in daily life, non-toxic and harmless, without any peculiar smell, can be used after opening
How to use:
Specification:
Product Name: All-Purpose Bubble Cleaner
Material: Ionized water, surfactant, additive
Capacity: 100ml
Function:Can clean stainless steel, ceramic and other kitchen utensils. Protect your hands.